Welcome,
our dear visitor!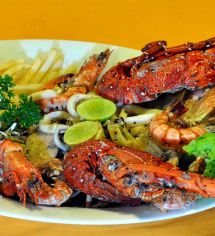 Our menus offer a selection of Fresh Sea Food, International Cuisine, British Classics, Thai and Sri Lankan Dishes all prepared & cooked to a very high standard by our well qualified chefs.
Now We have become a highly recommended sea food restaurant in Negombo beach.

Discover the SERENDIB a unique Dining experience in a modern, comfortable, relaxing and professional environment, catering for all age groups.
Our fine dining restaurant has done several extensive business promotion events with Sri Lankan largest business firms and has been acclaimed by well known food critiques as well as by discerning customers.
SERENDIB Special
Lobster

Lobster Grilled or Boiled Thermidor with Chips & Salad or Vegetable Rice.

Sea Food Platter SERENDIB

Fish/ Prawns/ Crab Calamari/ Lobster with Chips & Salad or Vegetable Rice.

Jambo Prawns

Jambo Prawns Grilled or Boiled served with Chips and Salad.

Garlic Steaks

served with Mash Potatoes and Salad.

More